Jun 11
5
I've got a quick Orzo Salad recipe for you this week from one of our boot campers "Leslie the Chef".
Leslie brings some pretty awesome energy to our workouts and it has helped her to lose over 30 pounds. When she's not burning fat with us Leslie is a private chef in the Santa Clarita Valley, and she was gracious enough to share this terrific healthy salad with us.
If you've never had orzo before it is a pasta from Italy that is made to look like grains of rice. It has kind of a nutty taste, and like most pastas, takes a variety of seasonings very well making it a great base for many dishes.
Here's what you'll need for the salad:
6 oz dry whole wheat orzo, cooked al dente
1 pound organic baby spinach
2 carrots, grated
1 bell pepper, chopped
3 large tomatoes, chopped or 1 1/2 cup grape tomatoes
1/2 cup edamame
1/2 cup Feta cheese
Here's your ingredient list for the dressing:
1 clove garlic minced
1 tb fresh basil chopped
1 tb dijon mustard
2 large lemons juiced
2 tb rice vinegar
1 1/2 tb extra virgin olive oil
salt and pepper to taste
Alright here's the hard work.
Combine all salad ingredients. Combine all dressing ingredients. Toss together and serve.
—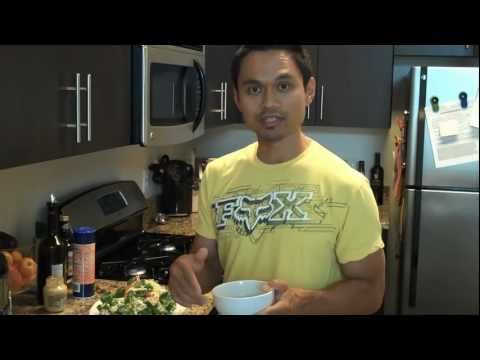 —
Leslie mentioned that she also likes to add leftover grilled veggies she has. Sounds good to me.
Get cooking Fit Body's!
John