For the better part of a year I've incorporated a new affirmation in my daily affirmations.
"NO EXCUSES"
-
Moving yourself forward and improving yourself is an ongoing daily exercise. Like many things in life. Right?
Stray from the practice and things start to slide.
Stay committed day-to-day and awesome things start to happen.
For me to really GSD (as my mentor says) "NO EXCUSES' is the kick in the pants on the days when I'm not feeling it.
One of the areas of my life that has opened up the door for excuses is when I travel.
It's really easy to say "the heck with my workout" and just go sight-seeing or put myself on lockdown for work stuff.
BUT…
I also know that I'm a happier person when I workout
I can concentrate better
I have more energy
and I feel really freaking good
A few weeks ago I was in the Gaslamp Quarter of San Diego to meet with my Mastermind group.
Did I workout while I was there?
YES, because I told myself "NO EXCUSES" I'm going to do this.
Here's what I did, and you can use it the next time you're traveling too.
GASLAMP GASSER
3030 Tabata
Round 1 – Work = Spiderman pushup, Active Rest = Shooter
Round 2 – Work = Goblet side lunge, Active Rest = Stability ball cobra
Round 3 – Work = Renegade row, Active Rest = Shooter
Round 4 – Work = 1-Arm Dumbbell Clean, Active Rest = Stability ball cobra
-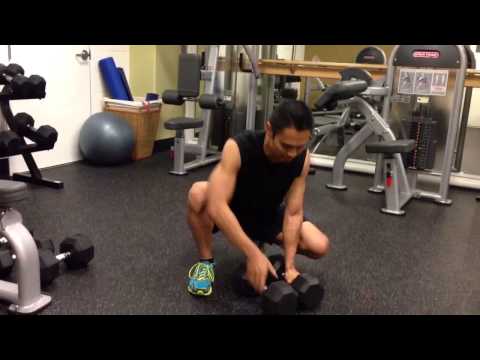 -
Keep in mind Tabata's work best when you push hard. I love them because they're quick and to the point.
If you're already pretty solid with the "NO EXCUSES" thing when it comes to fitness, don't forget, you can apply that principle to other areas of your life that aren't exactly where you want them to be.
Rock On!
John